He who counts nothing worth the having, except Christ, and for Christ, cannot be miserable–when he is lodged safely in Him.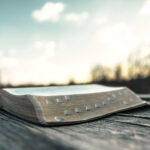 God is oftentimes better, but never worse, than His Word.
How will the heavens echo with joy, when the Bride, the Lamb's wife, shall come to dwell with her Husband forever!
Those who die in sin must be burned in Hell!
 ~  ~  ~  ~

Something to ponder:
You need to be born again children. Because you need to come to personal repentance and faith. And if you die before you come to personal repentance and faith, you are not going to Heaven; you are going to Hell. That's the warning we must give to children. Therefore  we must not presume they're regenerated. We must tell them: "You must be regenerated; you must come to faith and repentance." Joel Beeke
Instead of a river, God often gives us a brook–which may be running today, and dried up tomorrow.
Why?
To teach us not to rest in our blessings–but in the blesser Himself.
Therefore "Hold me up–and I shall be safe!" Psalm 119:117
"So do not fear–for I am with you! Do not be dismayed–for I am your God. Because I will strengthen you and help you; I will uphold you with My righteous right hand!" Isaiah 41:10