"I am the Good Shepherd. The Good Shepherd lays down His life for the sheep hear My voice; I know them, and they follow Me." John 10:27


Christ's sheep hear His voice.
Christ speaks to us in His Word as truly as ever He spoke to His disciples in the days of His flesh–and it is the delight of all His people to hear and obey His Word. The inspired volume is to them an inexhaustible source of comfort.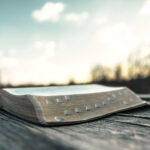 They read it,
meditate upon it,
they pray over it,
and "esteem it more than their necessary food."
When they open it, they look up to their Divine Master and say, "Speak Lord, for Your servant is listening. Open my eyes, that I may see wondrous things out of Your law."
Directions, warnings, precepts, promises–are all alike acceptable to them. Everything that conveys to them the mind and will of their Good Shepherd, is received with implicit faith and unreserved obedience.


Christ's sheep follow His steps.

In the written Word they behold the path their Savior trod. Wherever they see the traces of His feet, they endeavor to follow. They inquire not whether the way is arduous and self-denying, or perilous and beset with enemies. All that they desire is to ascertain precisely the path of duty; and then to walk in it with steadiness and perseverance.
They follow Jesus regardless of all dangers, indifferent to all the things of this world, and intent only on executing His will; and thither they direct their steps, cultivating in everything "the mind that was in Him," and endeavoring "to walk as He walked."
"I give them (His sheep) eternal life, and they shall never perish; no one can snatch them out of My hand!" John 10:28
~  ~  ~  ~
For more go to:  https://abbeyjahath.com/devotionals