(J.R. Miller, "Life's Byways and Waysides")
"Only one thing is needed. Mary has chosen what is better." Luke 10:42
Paul prayed that his friends "may be able to discern what is best." Philippians 1:10
We must be always making choices in this world. We cannot take up everything that lies in our path–and we ought to choose the best things. Even among 'right things' there is room for choice, for some right things are better than others.
There are many Christians, however, who do not habitually choose the best things–but second-rate things. They labor for the food that perishes–when they might labor for the food that endures unto everlasting life. Even in their prayers, they ask for temporal blessings–when they might ask for spiritual treasures!
They are like Esau, who sold his valuable birthright for some lentil stew. They toil for this world's vain things–when they might have been laying up treasures in Heaven!
We only have one life to live–and we ought, therefore, to do the best we possibly can with it. We pass through this world only once, and we ought to gather up and take with us the things that will truly enrich us–things we can keep forever!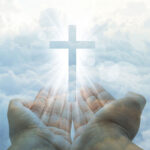 It is not worth our while, to toil,​ and strive and struggle–to do things that will leave no lasting results when our life is done–while there are things we can do which have eternal significance!
"Set your hearts on things above, where Christ is seated at the right hand of God.
Set your minds on things above, not on earthly things!" Colossians 3:1-2
~  ~  ~  ~
For more go to:  https://abbeyjahath.com/devotionals