"Let us, therefore, approach the Throne of Grace with confidence, so that we may receive mercy and find grace to help us in our time of need!" Hebrews 4:16
A multitude of hearts waits at the Throne of Grace! He has a numerous and needy family–but He is rich enough to supply them all, and His tender compassion extends to the poorest and most unworthy of them! Like the sun–He can cheer and enlighten millions of His poor pensioners at once! He gives to each one as bountifully–as if there were no others to partake of His favor!
His best blessings are not diminished–by being shared among many. The greatest earthly monarch would soon be poor–if he was to give but a pittance to all his subjects. But Jesus has unsearchable, inexhaustible riches of grace to bestow!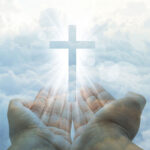 The innumerable assembly around the Eternal Throne are all continually supplied from His fullness; and yet there is enough and to spare for His earthly children also–and for all who shall come after us! May He give us an eager appetite–a hunger and thirst that will not be satisfied with anything short of the Bread of Life. We may confidently open our mouths wide–for He has promised to fill them!
"Let us, therefore, approach the Throne of Grace with confidence, so that we may receive mercy and find grace to help us in our time of need!" Hebrews 4:16

~ ~ ~ ~
For more go to:  https://abbeyjahath.com/devotionals