(Alexander Smellie, "The Secret Place" 1907)
"After leaving Marah, the Israelites traveled on to the oasis of Elim, where they found twelve springs of water and seventy palm trees. They camped there beside the water." Exodus 15:27
If I were not a pilgrim journeying through the wilderness — I could not know the refreshment of Elim. If I did not taste the bitterness of Marah — the pleasanter waters of Elim would lose half of their delightfulness. Therefore I should thank God for the difficult wilderness journey, and the keen afflictions along the way.
Elim brings supply. The oasis has its twelve springs of water — one for each of the tribes in Israel. And if I am journeying under God's leadership, in fellowship with His people, towards His promised land — how many are the aids, and how varied is the provision, with which the King of the way furnishes me!
Sunday worship comes week after week.
The Word of life and peace, is in my hands.
I have the Throne of Grace, to which I can resort in all my times of need.
Because There are golden days of peculiar privileges, and sweet fellowship with Christian friends.
Therefore Never should I be without the living water.
Elim brings shade. Above the twelve springs of water, rise straight and stately palm trees — seventy of them, as many as the seventy years of man's life on earth. They come between me, and the remorseless blaze of the sun. They secure for me a welcome coolness and refreshment.

Jesus, our adorable Redeemer, is a shade from the blazing heat of divine justice.
He is . . .
shelter from the just condemnation of my sin,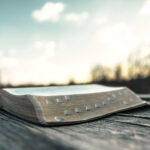 from the cruel onslaught of temptation,
and from the hardening effects of sorrow,
mercy to pardon, and grace to help!
Elim also brings rest. "They camped there beside the water" — and I should do likewise. It may be . . .
that the wilderness stretches on every hand,
that tomorrow I shall be in the desert sun once more,
that the end of my pilgrim's journey is far off.
Because I have the cheering memory of God's supply and God's shadow to solace me.
~  ~  ~  ~
For more go to:  https://abbeyjahath.com/devotionals