(Alexander Smellie, "The Secret Place" 1907)  LISTEN to audio!  Download audio
"Once the priests enter the Holy Place, they shall not go out of it into the outer court until they leave behind the garments in which they minister, for these are holy. They are to put on other clothes before they approach the public area." Ezekiel 42:14
The priests which Ezekiel mentions, take great discipline and preparation to please God. In compliance with His command, they clothe themselves in holy robes of the fairest linen. They make ready for drawing near His holy Presence.
Just so, I must be willing to take time and effort in my worship. Every day, I must pass into my sacred shrine to be with God.
I have to hush myself into quietness;
beseech the Holy Spirit for His empowerment;
and steadfastly study the majesty, purity, and the grace of the God to Whom I come.
Much mental concentration is required of me.
A sincere and honest heart is also required.
I am called to earnest contemplation and prayer.
When the service of the priests is over in the inner sanctuary, they divest themselves of the robes of whiteness in which they stood before the Lord. God keeps something to Himself, something which shall be known only to His servants and to Him.

Just so, I cannot disclose everything in my secret place with others.
There are heights and depths in the truth I am being taught, in the mercy I have received–which I do not yet comprehend, and over which I shall have to ponder all my life long.
And I ought not to disclose everything. To unveil my most sublime spiritual experiences, will injure me:
It would lessen humility, and foster pride,
rub the delicate bloom from off my character,
and make my secret place a beaten path.
Yet mine is a God who is never distant and inaccessible. The priests of old, left the shrine and went out into the world. But the Lord abides in the Holy Place still. We need only to return, and to clothe ourselves anew, and we will find Him the same as before–a God . . .
Who rejoices to hear our cry,
delights in our sincere, yet poor and disappointing services,
and lifts up His countenance on us and give us peace.
When I call upon Him, withdrawing myself from all others and all else–He is near as my strong Refuge and my ever-present Help in times of trouble. The doors of His Holy Place are never barred; and, within the doors, His gracious welcome awaits me.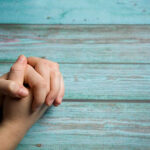 May He be the Temple that is the dearest spot on earth to me.
May I be a priest to serve Him day and night!
"He who dwells in the secret place of the Most High shall abide under the shadow of the Almighty!" Psalm 91:1
​~​​  ~  ~  ~​
For more go to:  https://abbeyjahath.com/devotionals