(James Smith, "The Pastor's Morning Visit")
LISTEN to audio!  Download audio
"Blessed are the poor in spirit, for theirs is the kingdom of Heaven." Matthew 5:3
The Lord's people are all poor; they see and feel that sin has stripped them of every excellence; and has left them wretched, and miserable, and poor, and blind, and naked. They can do nothing of themselves, they can procure nothing for themselves! But free grace has made ample provision for them, and the Gospel informs them that Jesus has everything they need–and that all that He has, is for them!
When they look at, or into themselves, they are discouraged.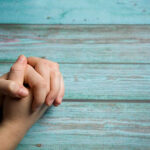 But when they look to Jesus, they rejoice!
He has riches of grace–and riches of glory; and He says, "Everyone who asks–receives." He gives liberally and upbraids not.
Here then is the present blessedness of the Lord's poor: Jesus has all they need! And He is their Redeemer and Friend! Those who seek Him shall not lack any truly good thing.
Am I poor? If so, Jesus bids me come to Him, and buy gold, clothing, wine, and milk without price–all that is necessary to comfort and support in time, and render me happy throughout eternity!
Poor in self–rich in Jesus!
Poor at present–rich in eternity! "For theirs is the kingdom of Heaven!"
"All things are yours!" 1 Corinthians 3:21
"And my God will supply all your needs according to His glorious riches in Christ Jesus!" Philippians 4:19
~  ~  ~  ~
For more go to:  https://abbeyjahath.com/devotionals