(James Smith, "The Pastor's Morning Visit")
"Look unto Me!" Isaiah 45:22
A new morning opens upon us—and we are still exposed . . .
to sorrow,
Satan, and
to disappointment!
— a thousand things are ready to distress us!
But our God says, "Look unto Me!"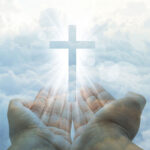 as the source of happiness,
the giver of grace,
your Friend!
in every trial,
for all you need, and
in every circumstance.
Look unto Me TODAY, I have blessings to bestow! I am waiting to be gracious to you!
Therefore believe that I am deeply interested in your present and eternal welfare!
That I will perform—all I have promised!
Believe that I am with you—on purpose to bless you! I cannot be unconcerned about anything that affects you! I pledge Myself to make all things work together for your eternal good.
Now, look unto Me ALONE!
Look unto Me FOR ALL!
"Look unto Me!"
~  ~  ~  ~
"Now he is comforted!" Luke 16:25

Poor suffering Lazarus had little comfort on earth — but he has plenty in Heaven. The discomfort he suffered here — must make his comfort there tenfold more sweet!

As it was with him, so will it be with us — we shall not lack comfort for long. We have much to comfort us now, even in our worst seasons — but the best is yet to come! The God of all comfort, who sends down drops of comfort now — will soon call us up to enter into the torrents of the fullness of His joy forever! Weeping may endure for a night, but joy comes in the morning. Soon our sufferings and sorrows will be forever ended!

"God will wipe away every tear from their eyes. There will be no more death or mourning or crying or pain!" Revelation 21:4