TRUST HIM FOR HIS GRACE!
"Having loved His own who were in the world–He loved them to the very end!" John 13:1
Christian, God's love to you is always the same. He cannot love you more–and He will not love you less!
Never, when afflictions multiply, when terrors frighten you or when your distresses abound–does God's love falter or flag.  Judge not the Lord by feeble sense–but trust Him for His grace. Whether you are into the depths of misery, or lifted into the seventh Heaven of delight–His faithful love never varies or fluctuates–it is everlasting in its continuity!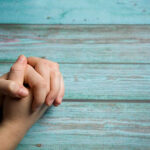 "His faithful love endures forever!" Psalm 136:1
"I have loved you, My people, with an everlasting love!" Jeremiah 31:3
"The faithful love of the Lord never ends!" Lamentations 3:22
~ ~ ~ ~
Tokens of God's love!
(Letters of John Newton)
Trials no less than comforts–are the tokens of God's love! All is regulated by infinite wisdom. You will find cause to praise Him even for the severe afflictions.
Cisterns must be broken–but the fountain of living waters is always full and always flowing!
Gourds must wither–but the tree of life has shade and fruit sufficient for us all, and at all times!
"Trials make the promise sweet,
They give new life to prayer;
Trials bring me to His feet,
Lay me low and keep me there!"
~ ~ ~ ~
For more go to:  https://abbeyjahath.com/devotionals