About Me
Abbey has been a leader in numerous church and prayer ministries. After working in the secular market for many years, a serious illness necessitated a change in direction. She studied to become a Certified Biblical Counselor. Since 2002 she has been counseling women, including marital counseling with her minister co-counselor.
Aj writes a Monday-Friday Thought for The Day for a newspaper. These short Bible passages and prayers will be featured in an upcoming devotional series, Loving Encouragements, as well as the Twitter versions in perpetual calendar format.
Her first book, Lovingly Broken! takes the reader through her journey of Trials to Triumph as she encourages weary pilgrims to see their trials as God's gift of working all things together for good (Rom. 8:28)
Below are a few of her favorites. Relishing her home in a forest, she enjoys God's creation and the friends who often visit, teasing her rescued cat relentlessly.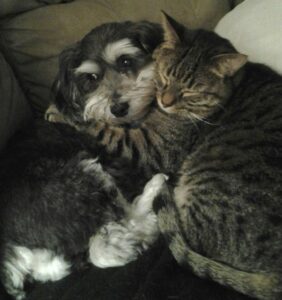 My 2 favorites-my loving cat comforted my precious dog when she had a seizure. My dog flew off the couch. When I realized what was happening, I put her back and my cat came to her rescue. He wrapped his paws around her and held her to comfort her. It reminded me of God's loving care of us as He says in Hebrews 13:5: "I will never leave you nor forsake you."
Mom showed me where to eat!
Then Mom ate too!
Sure looks warm inside!
Since they won't let me in, I'll eat bird seed.
I see the bird's Christmas gift... sure looks good!
I'll have to finish it off for them.
And sometimes we let the birds feed, too!