(J. R. Miller, "Living Without Worry")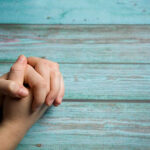 If we have God—no other loss is irreparable! There
is surely enough in God's love, to compensate a
thousand times for every earthly deprivation! Our
lives may be stripped bare—home, friends, riches,
comforts, every sweet voice of love, every note of
joy—and we may be driven out from brightness and
music and tenderness and shelter—into the cold ways
of sorrow. Yet if we have God Himself left—ought it
not to suffice? Yes, is not He Himself infinitely more
than all His gifts?
Often we do not learn the depth and riches of God's
love, and the sweetness of His presence—until earthly
joys vanish out of our hands, and beloved ones fade
away out of sight. The loss of temporal things empties
our hearts—to receive spiritual and eternal things! The
sweeping away of earthly hopes—reveals the glory of
Our heart's refuge in God. "God is our refuge and
strength, an ever-present help in trouble." Psalm 46:1
"Do not be afraid, for I have ransomed you. I have
called you by name; you are Mine! When you go
through deep waters and great trouble, I will be
with you. When you go through rivers of difficulty,
you will not drown! When you walk through the
fire of oppression, you will not be burned up; the
flames will not consume you. For I am the Lord,
your God, the Holy One of Israel, your Savior!"
Isaiah 43:1-3
~  ~  ~  ~
For more go to:  https://abbeyjahath.com/devotionals