(Francis Quarles, 1592-1644)
"How long shall I bear with this evil congregation who are grumbling against Me?
I have heard the complaints of the sons of Israel, which they are making against Me." Numbers 14:27
Complaining Christian! How you wrong the God of mercy, and how you slight the God of truth!
He who hears the cry of ravens, and feeds them with a gracious hand–will He be deaf to the cries of His redeemed children?
He who robes the lilies of the field, that neither sew nor care to be appareled–will He deny your necessities.
No complaining!
Are you hungry? He is the Bread of Life.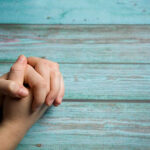 Are you thirsty? He is the Water of Life.
Are you stripped? Fly to Him, and He will give you the righteousness of His own Son.
Are you a prodigal? Yet remember that you are His son, and He is your Father.
Come, therefore, with a filial boldness, and He will grant your heart's desire.
"Let us then approach the throne of grace with confidence, so that we may receive mercy and find grace to help us in our time of need." Hebrews 4:16
~  ~  ~  ~
For more go to:  https://abbeyjahath.com/devotionals