"For Christ died for sins once for all, the righteous for the unrighteous, to bring you to God." 1 Peter 3:18
I entreat you to devote one solemn hour of thought to a crucified Savior–a Savior expiring in the bitterest agony.
Think of the cross, the nails, the open wounds, the anguish of His soul.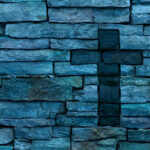 And think how the Son of God became a man of sorrows and acquainted with grief, that you might live in Heaven forever.
Think as you lie down upon your bed to rest, how your Savior was lifted up from the earth to die.
Therefore think amid your plans and anticipations of future gaiety, what the redemption of your soul has cost, and how the dying Savior would wish you to act. His wounds plead that you will live for better things.
"He Himself bore our sins in His body on the tree, so that we might die to sins and live for righteousness" 1 Peter 2:24
~  ~  ~  ~
The following is from Bonar's book,
"The Night of Weeping"
"In all our affliction he is afflicted."
Jesus weeps with us.
He knows our sorrows, for He has passed
through them all, and therefore He feels
for us. He is touched with the feeling of
our griefs as well as of our infirmities.
Even in His glory He enters most fully into
the fellowship of our burdens and sorrow,
whatever these may be, for there is not
one which He did not taste when He "dwelt
among us" here. His is sympathy, deep,
real, and true. It is no fiction, no fancy.
We do not see His tears falling upon us;
neither do we clasp His hand nor feel the
beating of His heart against ours. But still
His communion with us in suffering is a reality.
For more go to:  https://abbeyjahath.com/devotionals