(John MacDuff, "Evening Incense" 1856)
O my Father, it is of Your compassions alone, that I am not consumed!
My way Zionward is well-studded with Ebenezers, testifying "Thus far the Lord has helped me!"
The pillar of Your presence has guided me through many a perplexing path!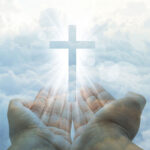 Your love has smiled through many a threatening cloud!
Your restraining grace has arrested me in many a slippery way!
When "my soul was among lions" — how often have You "sent Your angel" to rescue me and shut the lions' mouths! I am truly a marvel and miracle of Your preservation, patience, and mercy!
"Hold me up — and I shall be safe!" Psalm 119:117
~  ~  ~  ~  ~
The following is from Bonar's book,
"The Night of Weeping"
"In all our affliction he is afflicted."
Jesus weeps with us.
He knows our sorrows, for He has passed
through them all, and therefore He feels
for us. He is touched with the feeling of
our griefs as well as of our infirmities.
Even in His glory He enters most fully into
the fellowship of our burdens and sorrow,
whatever these may be, for there is not
one which He did not taste when He "dwelt
among us" here. His is sympathy, deep,
real, and true. It is no fiction, no fancy.
We do not see His tears falling upon us;
neither do we clasp His hand nor feel the
beating of His heart against ours. But still
His communion with us in suffering is a reality.
For more go to:  https://abbeyjahath.com/devotionals