THOUGHTS FOR A SUNDAY
"Come to Me, all you who labor and are heavy-laden, and I will give you rest." Matthew ​11:28
​"May your whole spirit, soul, and body be preserved blameless at the coming of our Lord Jesus Christ." 1 Thessalonians 5:23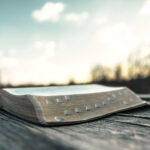 "Be humble and gentle; be patient, bearing with one another in love." Ephesians 4:2
"What will it benefit a man, if he gains the whole world yet loses his soul?
Or what will a man give in exchange for his soul?" Matthew 16:26

​"Blessed is the man who trusts in the Lord, for he shall be like a tree planted by the waters, which spreads out its roots by the river, and will not fear when heat comes…" Jeremiah 17:7-8a​-b
"Enter through the narrow gate. For wide is the gate and broad is the road that leads to destruction, and many enter through it. But small is the gate and narrow the road that leads to life, and only a few find it." Matthew 7:13-14
The following is from Bonar's book,
"The Night of Weeping"
"In all our affliction he is afflicted."
Jesus weeps with us.
He knows our sorrows, for He has passed
through them all, and therefore He feels
for us. He is touched with the feeling of
our griefs as well as of our infirmities.
Even in His glory He enters most fully into
the fellowship of our burdens and sorrow,
whatever these may be, for there is not
one which He did not taste when He "dwelt
among us" here. His is sympathy, deep,
real, and true. It is no fiction, no fancy.
We do not see His tears falling upon us;
neither do we clasp His hand nor feel the
beating of His heart against ours. But still
His communion with us in suffering is a reality.
For more go to:  https://abbeyjahath.com/devotionals