"I am the Good Shepherd; I know My sheep." John 10:14
When we think of the millions who are in Christ's flock,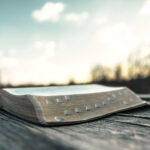 it seems strange to us that He calls each one by name.
Yet the truth is made very clear in Scripture.
Every mother knows her own children by name, and it
is as easy for the Good Shepherd to know each of His
millions by name—as for any human mother to know
each of her little children.
There is comfort in this teaching. We are not lost in
the crowd. Each one of of God's children, is the special
object of His love and thought and care!
"Do not be afraid, for I have ransomed you. I have
called you by name; you are Mine!" Isaiah 43:1
"For you are a people holy to the Lord your God.
The Lord your God has chosen you out of all the
peoples on the face of the earth to be His people,
His treasured possession!" Deuteronomy 7:6
Yes, He calls each one by name.
~  ~  ~  ~
Something to ponder


Arthur Pink: "Because God is God indeed–He does as He pleases, only as He pleases, always as He pleases. His great concern is the promotion of His own glory. He is the Supreme Being, and therefore Sovereign of the universe!"