(J.R. Miller, 1905)  LISTEN to audio!  Download audio
If we only tried seriously to live up to our praying, it would have a powerful effect upon our character and conduct!

There is no prayer that most Christians make oftener, than that they may be made like Christ. It is a most fitting prayer, and one that we should never cease to make. But if we very earnestly wish to be transformed into Christ's likeness–we will find the desire growing into great intensity in our daily lives, and transforming them. It will affect every phase of our behavior and conduct. It will hold before us continually, the image of our Lord, and will keep ever in our vision–a new standard . . .
of thought,
feeling,
desire,
acts,
speech.
It will keep us asking all the while, such questions as these,
"How would Jesus feel about this, if He were personally in my circumstances?
What would Jesus do, if He were here today where I am?"
LIVE UP TO OUR PRAYING
There is always danger of mockeries and insincerities in our praying for spiritual blessings. The desires are to be commended. God approves of them and will gladly bestow upon us the more grace we ask for: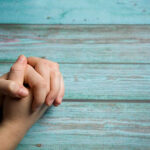 an increase in love,
greater faith,
a purer heart,
new advance in holiness.
But these are attainments which are not bestowed upon us directly, as gifts from heaven. We have much to do in securing them. When we ask for spiritual blessings or favors, the Master asks, "Are you able to pay the price, to make the self-denial, to give up the things you love–in order to reach these attainments in holiness, in grace, in spiritual beauty?"
If our lives were as good as our prayers, we would be saint-like in character.
If we find that our prayers are beyond our living, our duty is not to lower them to suit the tenor of our living–but to live up to the higher standard of our praying!
~  ~  ~  ~
For more go to:  https://abbeyjahath.com/devotionals