STRENGTH THROUGH WEAKNESS
by Spurgeon—
"The way to grow strong in Christ is
to become weak in yourself.
God pours no power into man's heart till
man's power is all poured out.
The Christian's life is one of daily dependence
on the grace and strength of God."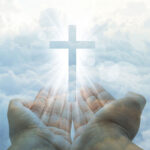 ~  ~  ~  ~
He takes away our props!
(from Mary Winslow's, "Life in Jesus")
Oh, what a mercy to have a throne of grace,
and a tender, compassionate, loving Christ to
go to at all times, and under all circumstances!
A genuine welcome; no frown to fear; no distant
look. Oh that we all might live upon Him,
moment by moment! For this reason He allows our
props to be taken away, that we might lean fully
upon Himself.
The way to grow strong…in Christ!
~  ~  ~  ~
Something to ponder
Charles Spurgeon: "Meditation puts the telescope to the eye, and enables us to see Jesus after a better sort than we could have seen Him if we had lived in the days of His flesh. Would that our meditation were more in Heaven, and that we were more taken up with the person, the work, the beauty of our incarnate Lord."
~  ~  ~
For more go to:  https://abbeyjahath.com/devotionals