(​John MacDuff, "The Promised Land!" 1859​ edited​​​)
"And He led them forth by the right way — that they might go to a city of habitation." Psalm 107:7
God's thoughts are not as ours nor His ways as ours! This truth is strikingly exemplified in the manner in which He led the Israelites from Egypt to the promised land. We would have chosen the way that was nearest and most direct — but God decided otherwise. He led them round about through the wilderness, and that for the space of forty years! And not merely was it the most distant way — but it was the most dangerous way as well. It was a land of deserts and of pits — a land of drought and death — a land that no man passed through, and where no man dwelt.
But, as strange as it appeared, we are fully justified in saying that it was wisely arranged.
Their long detainments;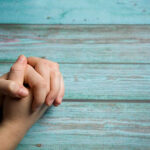 their tiresome and circuitous wanderings;
fierce conflicts with the Moabites and the Amalekites;
the bitter waters which they had to drink; and
fiery serpents with which they were stung —
all fulfilled the high purposes of Him who is excellent in counsel, as well as wonderful in working. However contrary His way might have been to theirs — yet "He led them forth by the right way, that they might go to a city of habitation."
And His dealings with His people now, are still as unusual, and as much opposed to all their preconceived plans — as were His dealings with the Israelites!
Christian, what is your duty?
It is to trust His heart even when you can't trace His hand; believing "all His paths are mercy and truth, unto such as keep His covenant and His testimonies."
It is to follow His guidance continually; for as He led His people of old with "the cloud by day, the pillared fire by night" — so He has promised to direct all your steps, and preserve all your goings.
It is to wait His time; for although the way may appear long and tedious — yet remember, "all is well, that ends well." And what will the end be? "And the ransomed of the Lord shall return, and come to Zion with songs, and everlasting joy upon their heads! They shall obtain joy and gladness, and sorrow and sighing shall flee away!"
~  ~  ~  ~
For more go to:  https://abbeyjahath.com/devotionals