(J.C. Philpot, "The Good Shepherd and His Work")
LISTEN to audio! Download audio
(You will find it helpful to listen to the audio above, as you read the text below.)
"I will feed My flock." Ezekiel 34:15
The only real food of the soul–must be of God's own appointing, preparing, and communicating.
You can never deceive a hungry child. You may give it a plaything to still its cries. It may serve for a few minutes, but the pains of hunger are not to be removed by a doll. A toy horse will not allay the cravings after the mother's milk.
So it is with babes in grace–a hungry soul cannot feed upon playthings.
Altars,
robes,
ceremonies,
candlesticks,
bowings,
mutterings,
painted windows,
intoning pastors and priests,
singing men and women–
these dolls and wooden horses–these toys and playthings of the religious babyhouse, cannot feed the soul that, like David, cries out after the living God. (Psalm 42:2)
Christ, the bread of life, the manna from Heaven–is the only food of the believing soul!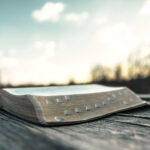 "I am the living bread that came down from Heaven.
If anyone eats of this bread, he will live forever." John 6:51
"Your words were found, and I ate them, and Your Word was unto me the joy and rejoicing of my heart!" Jeremiah 15:16
"As newborn babes, desire the pure milk of the Word–that you may grow thereby." 1 Peter 2:2
~  ~  ~  ~
For more go to:  https://abbeyjahath.com/devotionals