(Alexander Smellie, "The Hour of Silence" 1899)  LISTEN to audio!  Download audio
Then he said, "Jesus, remember me when you come into Your kingdom."
Jesus answered him, "I tell you the truth, today you will be with Me in paradise!"
Luke 23:42-43

"Twas a thief," Robert Browning writes, "who said the last kind word to Christ."
In the morning the thief was OUT of Christ:
far from God and far from righteousness,
the helpless captive of sin,
the child of despair and death.
At noon the thief was IN Christ:
remembered graciously by the Savior of the lost,
redeemed with an everlasting redemption,
endowed with the new heart,
and freely and perfectly justified.
In the evening the thief was WITH Christ:
gazing on the glories of paradise,
safe at home with his good Shepherd and adorable Redeemer.
What a crowded and memorable day this was in his history! So much was pressed into these few hours. Such a glorious and unprecedented transition they brought, from the cruel cross–to Heaven's glory!

OUT of Christ,
then IN Christ,
then WITH Christ!
Nature,
then grace,
then glory!
Hopelessly lost in the far country,
then safe under the Savior's wings,
then beside the Lord on His glorious throne!
Are these the three stages in my spiritual biography?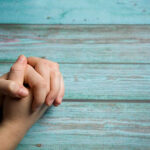 I know the first only too well.
Am I growing more and more familiar with the second?
Is it my joy to look forward to the third?
"I ask not the favor given Paul," Copernicus said, "I seek not the grace bestowed upon Peter–but I beg the mercy granted to the thief on the cross!"
​~  ~  ~  ~​
For more go to:  https://abbeyjahath.com/devotionals