(James Smith, "Christ Exalted, Saints Comforted, and Sinners Directed" 1855)
"I have set the Lord always before me!" Psalm 16:8
With the Lord always before us . . .
our faith will be strong,
hope will be vigorous,
humility will be deep,
penitence will be abiding,
evidences will be satisfactory,
and our example will be bright!
Let us, therefore, set the Lord always before us . . .
to meditate upon His love, grace, and goodness;
admire His holiness, condescension, and patience; and
commune with Him, as our Friend and loving Father, from day to day.
Then we shall not . . .
fear men,
dread death, or
be alarmed at the convulsions that take place in our world!
Our confidence will be strong,
peace will flow like a river, and
our righteousness like the waves of the sea.
It is when we take the eye off the Lord, and look into SELF, that . . .
our doubts, fears, and unbelief–arise and work,
Satan gains an advantage over us, and
the world fascinates or frightens us!
Let us therefore, look . . .
out of self,
away from the world,
above our trials,
and look simply to Jesus!
This is the way to . . .
enjoy peace,
grow in grace, and
abound in every good work.
Therefore Let us look away from sin, to Jesus making atonement for it!
Let us look away from guilt on the conscience, to Jesus as bearing the iniquity of our holy things before the Lord!
Look away from imperfect duties deserving punishment, to His magnificent righteousness!
Let us look away from our cold hearts and lifeless prayers, to His constant and all-prevalent intercession!
We shall never maintain . . .
peace in our consciences,
evenness in our walk, or
consistency in our lives,
but as we keep the Lord always before us!
Therefore . . .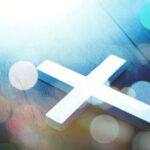 if we wish to be happy,
desire to be holy,
would die in peace,
let us look simply, only, always, and in everything–to Jesus!
O Savior, may I set You before me as. . .
my fountain of supply,
source of comfort,
rock of strength,
way of salvation,
and my bright example!
"Let us fix our eyes on Jesus, the author and perfecter of our faith!" Hebrews 12:2
​~  ~  ~  ~​
For more go to:  https://abbeyjahath.com/devotionals