(from Octavius Winslow's "My Times in God's Hand")
Covet to live a life of daily dependence on God.
Oh! it is a sweet and holy life!
It will save you….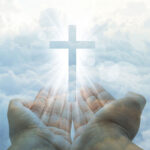 from many a desponding feeling;
a corroding care;
an anxious thought;
a sleepless night;
from many a tearful eye; and
many an imprudent and sinful scheme.
Learn to be content with your present lot, with
God's dealings with you, and His disposal of you.
You are just where His 'providence' has, in its
inscrutable but all wise and righteous decision,
has placed you.
​~  ~  ~  ~​
(James Smith, "Daily Bible Readings for the Lord's Household")

"Underneath are the everlasting arms!" Deuteronomy 33:27
That is — underneath every believer.
Those everlasting arms
are there . . .
to bear him up,
bear him on, and
preserve from all real danger.
The arms of God are . . .
invisible — no one sees them;
spiritual — no one feels them;
careful — no one falls out of them;
omnipotent — no one overcomes them.If the everlasting arms of my God are underneath me, then . . .
I may quietly yield myself unto Him;
confidently expect divine protection;
certain that He will lift me above my foes;
feel assured that He will safely convey me home.
Aged
saints may rejoice in this; for to them the Lord says, "I will be your God throughout your lifetime — until your hair is white with age. I made you, and I will care for you. I will
carry
you along and save you!" Isaiah 46:4And
weak
believers may rejoice in this, for "He will
carry
the
lambs
in His arms, holding them close to His heart!" Isaiah 40:11
O to realize this sweet and encouraging truth:
underneath me are the everlasting arms!
~  ~  ~  ~
For more go to:  https://abbeyjahath.com/devotionals