(J.R. Miller, "Help for the Day")
"The eternal God is your refuge, and underneath are the everlasting arms!" Deuteronomy 33:27
"You are my refuge — my portion in the land of the living!" Psalm 142:5
Often we do not learn the depth and riches of God's love, and the sweetness of His presence — until our earthly joys vanish out of our hands, and other beloved presences fade away out of sight.
The loss of temporal things seems often to be necessary to empty our hearts that they may receive unseen and eternal realities. The heart's door is never fully opened to Him — until the soul's worldly joys are removed. Then, while it stands open, He enters bearing into it immortal joys!
How often is it true, that the sweeping away of our earthly hopes reveals the glory of our heart's refuge in God! Someone has beautifully said, "Our refuges are like the nests of birds: in summer they are hidden among the green leaves — but in winter they are seen among the bare branches." Worldly losses but strip off the foliage, and disclose to us our heart's warm nest in the bosom of God!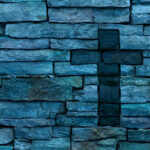 "The LORD is a refuge for the oppressed, a stronghold in times of trouble!" Psalm 9:9
"God is our refuge and strength — a very present help in trouble!" Psalm 46:1
"You are my strong refuge!" Psalm 71:7
​~  ~  ~  ~​