(James Smith, "The Love of Christ! The Fullness, Freeness, and Immutability of the Savior's Grace Displayed!")  LISTEN to audio!  Download audio
"I am poor and needy; come quickly to me, O God.
You are my help and my deliverer; O Lord, do not delay!" Psalm 70:5
How frequently are we poor Christians involved in dangers and difficulties, from which we cannot extricate ourselves! Surrounded as we are by enemies and evils, this can be no wonder. But how are we to be delivered? To whom are we to look for relief and rescue? To Jesus alone, who is emphatically "The Deliverer!"
He has power, and will exert it,
wisdom, and will employ it,
merit, and will apply it,
for the deliverance of all who call upon Him to do it.
He delivers . . .
from sin,
Satan,
dangers,
damnation!
He delivers . . .
freely,
frequently,
and effectually.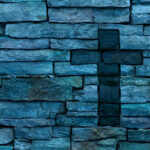 He has delivered . . .
Joseph from the evil designs of his brethren,
David from the hand of Saul,
Daniel from the lions, and
multitudes in every age, from eternal Hell.

He delivers from all evils, and from the most determined foes!

David celebrated his delivering mercy when he sang, "For you, O Lord, have delivered my soul from death, my eyes from tears, my feet from stumbling–that I may walk before the Lord in the land of the living!" Psalm 116:8-9
How sweetly encouraging is this: to view Jesus as our present Deliverer in every season of trouble, and in all circumstances of danger; to know that He is ready to arise for our rescue, and appear for our deliverance.
What need we to fear? Why should we indulge our gloomy apprehensions? He has already conquered every foe, and whenever He appears, all flee before His face. There is . . .
such majesty in His countenance,
terror in His frown, and
love in His heart toward His people,
that whenever He appears on their behalf, all their enemies melt away like snow, and depart as a midnight dream!
O gracious Deliverer of Your people, deliver my soul from . . .
the power of sin,
influence of the world,
force of temptation,
deceitfulness of my own heart,
and designs of all my foes!
Keep me by Your mighty power, through faith, unto salvation!
"The Lord is my rock, my fortress and my deliverer; my God is my rock, in whom I take refuge. He is my shield and the horn of my salvation, my stronghold!" Psalm 18:2
"He is my loving God and my fortress,
my stronghold and my deliverer,
my shield, in whom I take refuge,
who subdues peoples under me!" Psalm 144:2
​~  ~  ~  ~​
For more go to:  https://abbeyjahath.com/devotionals