(William Thoseby, "Foot-prints on the Sands of Time" 1869) LISTEN to Audio!  Download Audio
"When you pass through the waters, I will be with you; and when you pass through the rivers, they will not sweep over you!" Isaiah 43:2

John Bunyan writes in his Pilgrim's Progress: "Now I further saw that between the pilgrims and the gate of the Celestial City, was a river, but there was no bridge to go over, and the river was very deep. At the sight of this river, the pilgrims were much stunned; but those who went with them, said, 'You must go through, or you cannot come to the gate.' The pilgrims then began to despond in their minds, and looked this way and that, but no way could be found by them, by which they might escape the river."

How true and touching is this description. Because There is no way from this world to the Celestial City, but through the river of death. Whether men go to eternal glory or to eternal gloom–they have to ford its depths. There is no way of reaching the Celestial City, without crossing the narrow stream of death. When the summons for our departure arrives, we must enter the deep dark waters. None can disregard the call, nor choose any other mode of transit.
But it is given to the Christian pilgrim to hear the voice of the Good Shepherd sounding like sweet music in the intervals of storm: "It is I, do not be afraid!" Jesus may allow you to hear some touches of richest music, and feel some waftings of balmiest air. It has even seemed to some of the pilgrims, that their very names were called; and then with new thrillings of the inner sense, they have joyfully answered, "We are coming! We are coming home!"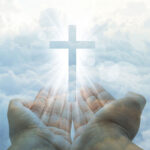 But as we near the banks of the river, the prospect of parting with beloved relatives and friends is sometimes deeply affecting. It was a touching scene in ancient Israel, "When all the congregation saw that Aaron was dead, they mourned for him thirty days."

Oh, there is a luxury in tears! The tears of tenderness, are the jewelry of our humanity. The man who never sheds a tear, is by no means to be envied. Have we not heard of the weeping Savior? Reader, turn aside and see this great sight: the Creator of all worlds, in tears! "Jesus wept!" John 11:35. And those tears formed one of the most touching episodes in His sacred story.

Looking along the line of coming years, the Savior had before Him the believing bereaved of all ages, a picture gallery of the world's aching hearts, a far and wide spread view of all the deserted chambers, vacant seats and open graves, down to the end of time. Therefore, weeping believer, your anguished heart was included in the Savior's tear drops!

"Shudder not to pass the stream,
Venture all your care on Him,
Him whose dying love and power
Stilled its tossing, hushed its roar.

Not one object of His care,
Ever suffered shipwreck there;
See the haven full in view;
Love Divine shall bear you through!"
​~  ~  ~  ~​
For more go to:  https://abbeyjahath.com/devotionals