(James Smith, "The Believer's Companion in Seasons of Affliction and Trouble" 1842)
LISTEN to audio!  Download audio
"Do not be afraid, for I am with you!" Isaiah 43:5

The presence of a friend in trouble is cheering and consoling. But it is too often the case that our friends, like the friends of Job, prove to be miserable comforters. They do not enter into our troubles–or they can not help us. The advice they give at times–only aggravates our woe, and adds to our distress.

But, believer, your God says, "Do not be afraid, for I am with you!" What a thought is this! God, the great, the glorious, the omnipotent Jehovah–is with me!
With me to help me,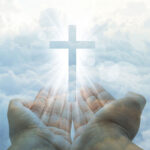 comfort me,
sanctify me,
save me,
as a kind benignant Father,
in every place, in every trouble, in every conflict,
through all my journey and for evermore,
on the bed of sickness,
to hold communion with me,
listen to my sighs,
number my tears, and
with me to secure me from all injury!


Appearances may be very dark;
the night may seem very long; and your pains, weakness, and fears may be many and great. Still, if the Lord is with you, you may sing, "Even though the fig trees have no blossoms, and there are no grapes on the vines; even though the olive crop fails, and the fields lie empty and barren; even though the flocks die in the fields, and the cattle barns are empty–yet I will rejoice in the Lord! I will be joyful in the God of my salvation!" Habakkuk 3:17-18

"Do not be afraid, for I have ransomed you.
I have called you by name; you are Mine!
When you go through deep waters, I will be with you.
Or When you go through rivers of difficulty, you will not drown.
When you walk through the fire of oppression, you will not be burned up; the flames will not consume you. For I am the LORD, your God, the Holy One of Israel, your Savior!" Isaiah 43:1-3
​~  ~  ~  ~​
For more go to:  https://abbeyjahath.com/devotionals